Analytics reporting is the science behind the art that is digital marketing. Careful attention to metrics allows a marketing team to track a campaign's performance in real-time and persuasively demonstrate the value of their efforts. At its most fruitful, analytics reporting provides a deeper understanding of client needs and behaviors in a way that inspires firms to take actionable steps toward improving performance.
How We Do It
Most firms have access to an abundance of data from their various digital properties (websites, microsites, blogs, email marketing platforms, social media campaigns, content aggregators, etc.). Yet far too few utilize that data effectively, usually because they lack the capacity to do so in a truly impactful way.
Our Real-time Analytics Dashboard (RAD) was developed to help law firms short on time or resources review and leverage their metrics to identify key trends and develop action plans based on the data. Using proprietary analytics tools that integrate all of your digital data, we create a customized dashboard and monthly reports that provide answers to your most pressing questions:
Are we increasing the visibility of the firm? More specifically, are more people visiting and interacting with our site than in previous periods?

Are prospects and clients finding us? Or does the majority of our traffic appear to be potential hires?

Is our content getting found online? Is our search traffic increasing?

What content types and topics are performing best? Why?

What types of content and search keywords are we most likely to get found for? Are we getting found for the topics where our knowledge and experience is most valuable? If not, why not?

Where do clients most likely arrive on our website? Have we established a clear direction for them to proceed into our website so they can understand your firm, its knowledge, its perspective, and its experience?
Data From All Your Channels
RAD is a top-of-the-line analytics reporting tool that integrates seamlessly with all the top currently available marketing applications and platforms, RAD organizes all data in one convenient locale, and the vast variety of integrations allows you to draw upon metrics from several sources.
Social Media Platforms- All major platforms, including LinkedIn, Facebook, Twitter, Instagram.
Email Marketing Automation Platforms- Platforms such as Vuture, Concep, HubSpot, MailChimp, and Constant Contact
Google- Google's full range of tools, including Google Analytics, Google Search Console, Google Ads, Google My Business
SEO Platforms- Platforms like Semrush, Ahrefs, Moz
Online Advertising - RAD integrates with social platforms and Google so you can track online advertising through Google Ads, LinkedIn Ads, Facebook Ads
Legal Aggregators-

Lexology, JD Supra, and Mondaq
And above all else, RAD can integrate with just about any software with an open API. So your firm won't have to worry about adjusting your current mar tech stack.
How does your law firm measure up?
Leverage meaningful industry benchmarks to make decisions around strategy, budget, goal setting, planning, and execution. See how you compare to other firms like yours to more accurately discover the real areas of opportunity.
Set Up Cost
$1000/month
During the setup phase, we will connect all of your different data sources including Google analytics, social media, email, blogs, and any content aggregators. We can also discuss any other specific data source that you will want to connect with.
Standard Package
$2000
/month
(3 month commitment)
Google Analytics, Adobe Analytics

LinkedIn, Facebook, Twitter, Instagram

LinkedIn Ads, Facebook Ads, Google Ads

Hubspot, Marketo, Salesforce, Pardot

SEMRush, ahrefs, Moz, Google Search Console

Vimeo, YouTube

JD Supra, Lexology, Mondaq

Monthly call with insights, analysis and recommendations

Live link to your real-time analytics dashboard

Benchmark your firm against the Amlaw 200 (for first 10 firms

)
Premium Package
$4500
/month
(3 month commitment)
Manual Integrations

Vuture, Concep, Clearview, SocialHP

Advanced setup, different frequency (weekly, YTD)

White labeling

Leadership Dashboard

Monthly call with insights, analysis and recommendations

Live link to your real-time analytics dashboard

Benchmark your firm against the Amlaw 200
A La Carte
Custom Integrations, anything we have to build ourselves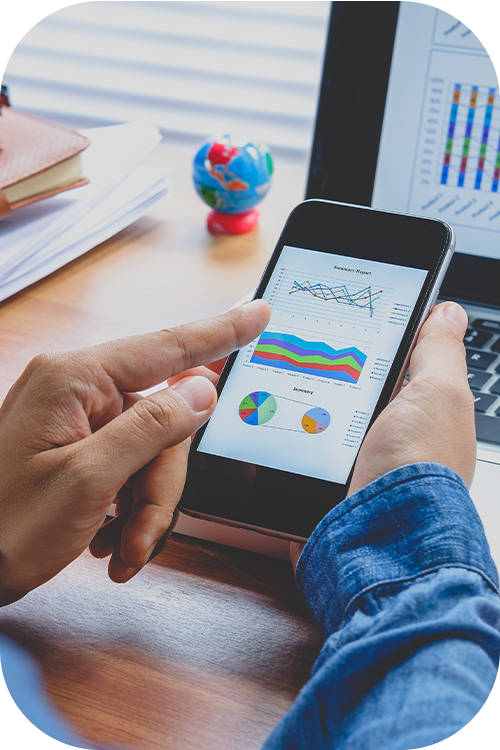 We Measure the Metrics that Best Align With Your Goals
With so many metrics available, it's often not what you measure but what you don't that defines digital marketing success.
Analytics reports need to be useful and focused on your stated business objectives. A report packed with irrelevant KPIs will only bloat your dashboard and lead you to focus on the wrong things. By delivering customized reports around a tight set of metrics, we can ensure accountability for the specific results you seek and demonstrate the true value of our contributions.
But the metrics are just the start – context is also essential. We prefer to review data and results in real-time and, if necessary, explain how we plan to modify your digital strategy based on the findings. We also use this as an opportunity to refresh what we're measuring. If you decide you want to add new metrics to the reporting mix, it's an excellent opportunity for us to discuss our plans to ensure we're both aligned on the strategy.
About Good2bSocial
As the leading digital marketing agency dedicated exclusively to the legal industry, Good2bSocial works with lawyers, law firms, and legal vendors who are serious about growth, advising our clients on the most effective use of digital technology to achieve their business and marketing objectives. We offer a full suite of inbound marketing services – Digital Strategy, Analytics Reporting, Social Media Management, Pay-Per-Click Advertising, SEO, Content Marketing and Creation, Email Marketing, Video and Podcast Production – to help firms inform, engage, and captivate potential clients in a way that drives success.